¡Juntos Adelante!
2022 Judicial Excellence & Scholarship Gala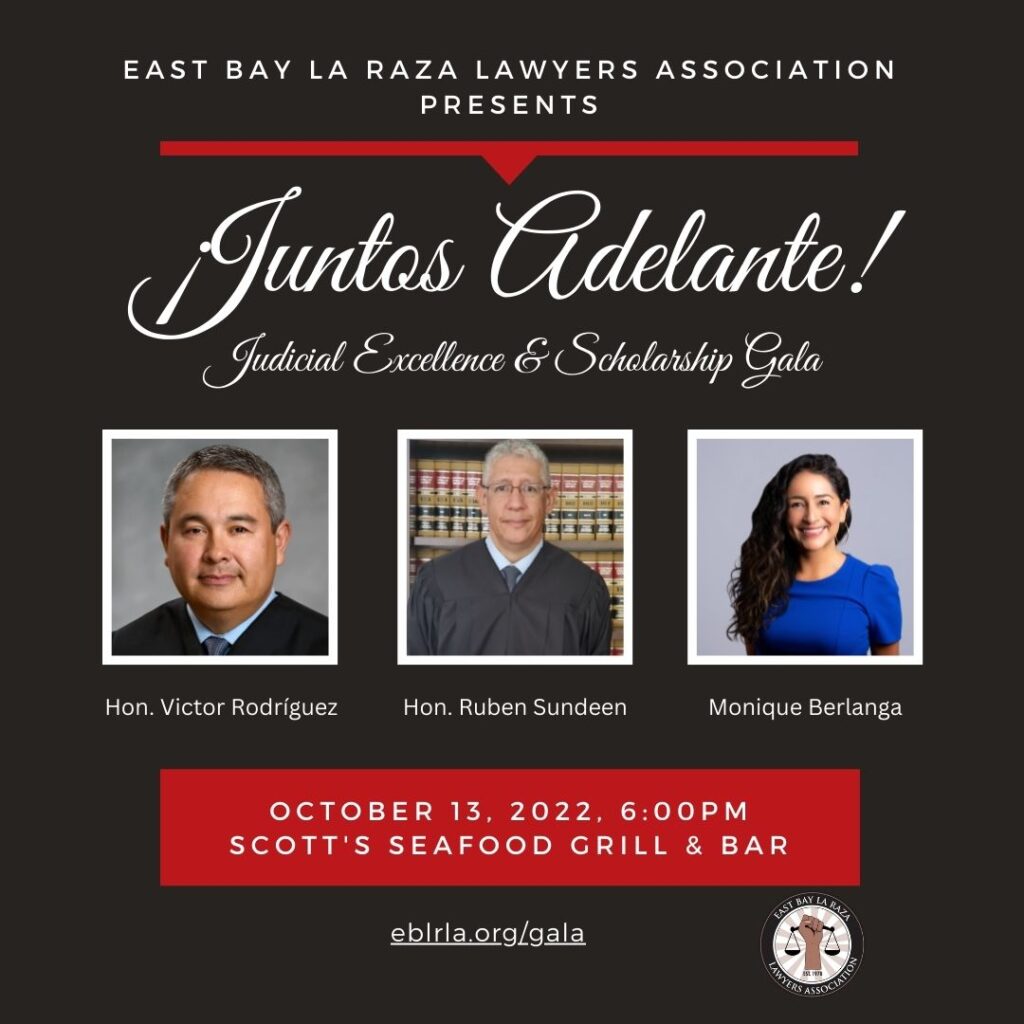 Thursday, October 13, 2022, 6:00 PM
Scott's Seafood Grill & Bar
Jack London Square, Oakland, CA

Donate to EBLRLA Scholarship Fund
2022 Honorees


Judicial Excellence Award: Justice Victor Rodríguez
Distinguished Service Award: Judge Ruben Sundeen
Community Champion Award: Monique Berlanga
2022 Scholarship Recipients


Bar Study Scholarship: Natassja Urrutia
ChangeLawyers Scholarship: Yesenia Sandoval
California Lawyers Association, Litigation Section Scholarship: Karla Y. Martinez Rojas
Piedad & Raul Castro Scholarship: Stephanie Roque-Hurtado

COVID-19 Safety: Proof of COVID-19 vaccination required. If unable to become vaccinated, please take a COVID-19 test up to one day before and bring a photo of your negative result.

Parking: The closest is the underground garage below Plank Restaurant at Broadway & Embarcadero West, 98 Broadway, Oakland, CA 94607. Entrance also available at Franklin & Embarcadero West. Another alternative is the Washington Garage, 101 Washington Street, Oakland, CA 94607 at the intersection of Embarcadero West in front of the Regal Jack London theater.

2022 Gala Sponsors
Title Sponsor

Silver $3,000
Bronze $1,500
---
Since September 2002, the EBLRLA has organized Gala dinners in Downtown Oakland to fundraise for the EBLRLA Scholarship Fund which awards scholarships to law students who live, work, or study in Alameda and Contra Costa counties. Additionally, we have honored Latinx judges and leaders over the past 20 years. Our Galas provide an opportunity for the local legal community to come together to support and celebrate past, present, and future Latinx lawyers.
2015's Gala was held on February 5, 2015 and we awarded 3 scholarships.
2017's Gala was held on May 4, 2017 and we awarded 4 scholarships.
2019's Gala was held on October 3, 2019 and we awarded 5 scholarships in total that year.
2022's Gala was held on October 13, 2022 and we awarded 4 scholarships.
For more information about our Gala, please email us.